THE FIRE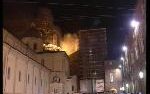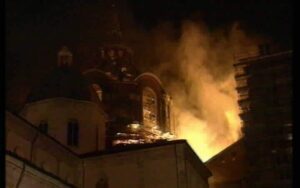 Throughout the centuries the preservation of the Shroud faced many difficulties. The most critical moment was in 1532 when a devastating fire broke out in the Sainte Chapelle of the Chambéry Castle and the Linen was damaged by the melted metal of the silver reliquary it was kept in.
The white-hot drops had caused a series of symmetric holes (the Linen was folded up). In 1534 the Poor Clares of Chambéry had mended it by applying linen triangular patches on a lining (called Lining of Holland) to strengthen the whole.
Just like in Chambéry nearly five centuries before, fire flared up once again where the Holy Shroud was guarded. In the night between friday, april 11th and saturday, april 12th , 1997, half an hour before midnight, the sky above Turin was lighted by the fire that shrouded the Guarini dome.
The flames had burst out from the scaffoldings around the dome drum and rapidly reached inside the building and the west wing of the near Real Palace. The Linen, just like in the 1532 Chambéry fire, was locked up into a precious wooden case which is now in the Museum of the Holy Shroud and it was not folded but wrapped round a stick and, above all, in a shatter and bullet-proof glass reliquary suitably built behind the Cathedral main altar.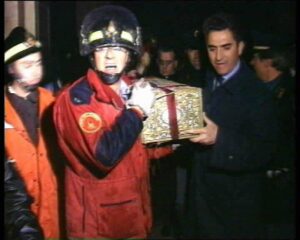 That night, even if the firemen kept sprinkling the reliquary with the powerful hydrants jets, the danger of downfalls was getting more and more concrete. The chapel of the Shroud is just above the presbytery area of the Cathedral and many pipes of the scaffoldings set up for restoration works were bending for the big heat.
The bullet-proof glass reliquary was then broken by a big iron hammer to grasp the case of the Shroud and save it from the flames.
On the evening of april, 14th an inspection of the Linen confirmed the Shroud had been preserved.
VIDEO
(courtesy of "La Storia Siamo Noi", RAI Edu)