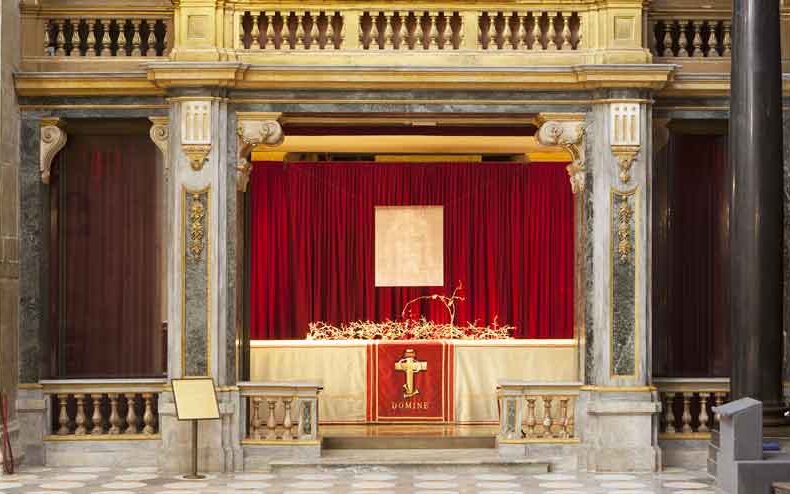 WHERE IS THE SHROUD NOW
The resting place of the Shroud is within Turin Cathedral (Piazza San Giovanni), in the last chapel of the left aisle, under the Royal Tribune.Under normal circumstances, the Shroud cannot be observed directly, as it is preserved within a special "conservation case", which in turn is enclosed in a large metal box. The Cloth is extracted from its case only on the occasion of public expositions.
Pilgrims can reach the chapel and stop in prayer outside (in front of the chapel window there are benches and kneelers). They will thus find themselves right in front of the box that encloses the Shroud.
Along the entire left nave of the Cathedral, the screens broadcast some videos that explain in detail, with translations of the subtitles in the main languages, the characteristics and history of the Shroud. Volunteers are always present in the Cathedral (with purple jackets), available to provide other necessary information.
Opening hours – The Cathedral is open every day from 9 to 12.30 and from 15 to 19. The volunteers of the Shroud will be on site to welcome and assist visitors. During Masses and other celebrations it is not possible to visit the chapel of the Shroud.
The Duomo is located in the historic center of Turin, very close to Piazza Castello and adjacent to the monumental complex of the Royal Palace. Several public transport lines provide easy access to the area, while access to private cars is regulated.
Museum of the Shroud – In via San Domenico 28, about 10 minutes walk from the Duomo, there is the Museum of the Shroud, open every day from 9 to 12 and from 15 to 19.
The next public display – There is no rule for ostensions: the Pope decides, who is the owner of the Shroud, bequeathed to the Holy See by Umberto II of Savoy. So: no one knows when the next exhibition will be.